Please, select Your language version: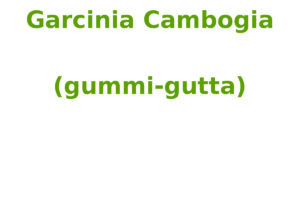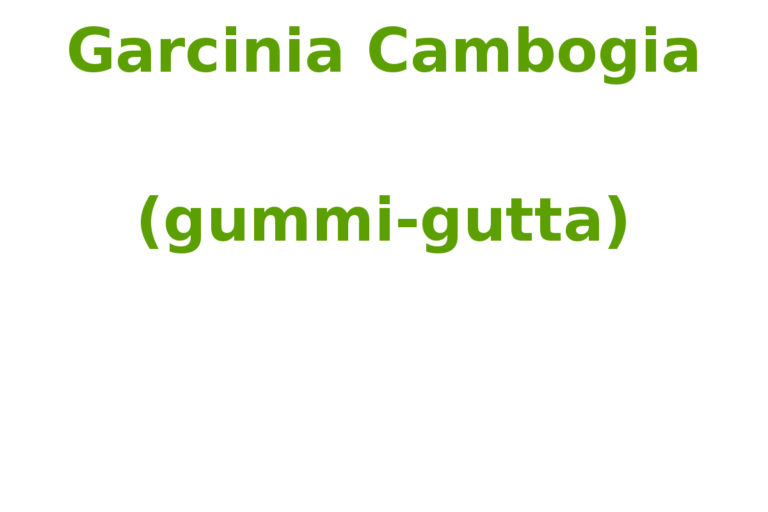 Garcinia gummi-gutta is a tropical[2] species of Garcinia native to Indonesia. Common names include Garcinia cambogia (a former scientific name), as well as brindleberry[3], Malabar tamarind[2], and kudam puli (pot tamarind)[4]. This fruit looks like a small pumpkin and is green to pale yellow in color.

Garcinia Cambogia & Weight loss
Hydroxycitric acid (HCA), the principle constituent (10-50%) of the dried fruit rind of Garcinia cambogia, has been assessed for its potential to cause weight loss[15]. In late 2012, a United States television personality, Dr. Oz, promoted Garcinia cambogia extract as "an exciting breakthrough in natural weight loss"[16][17].
Supplementation of Garcinia Cambogia showed decrease in body weight gain, inflammation and glucose intolerance. This supports the popular view that inclusion of Garcinia Cambogia in the diet may help in body weight management[18].
The main reason for these weight loss properties of G. Gummi-Gutta is Hydroxycitric Acid (HCA). HCA is found in the rinds of this fruit and you may expect from 10% to 30% (though rare) of HCA in the dried rinds of Garcinia Cambogia.
There is lot of buzz in the health and weight loss industry about HCA considered to be quite effective in weight loss. This compound is known to have significant effect on the body as fat burner, appetite suppressor and metabolism booster. It checks the production of enzyme called citrate lyase which is responsible for converting the excess carbohydrates into fat. This would convert the carbs into energy and reduce the unnecessary fat deposition on the problem areas of the body.
Side effects
Orally, 500 mg of hydroxycitric acid (HCA) four times daily can cause nausea, gastrointestinal discomfort, and headaches[24].
Synonyms
(≡) Cambogia gummi-gutta L.
(≡) Garcinia cambogia Desr.
(≡) Mangostana cambogia Gaertn.
Common names
Malabar-tamarind
Ranking of slimming tablets with Garcinia Cambogia
Our editors have prepared a ranking – a comparison of diet pills containing HCA from Garcinia Cambogia dried skins, where you will find the best formulations of this type available on the market – OTC, via the Internet.
Dietary supplements for weight lost with Garcinia Cambogia
There are many dietary supplements available on the market, containing Garcinia Cambogia. They are a common ingredient of products for weight loss.
Garcinia Cambogia Actives – 60% HCA

---
References & External links
"Garcinia gummi-gutta (L.) Roxb.". World Checklist of Selected Plant Families (WCSP). Royal Botanic Gardens, Kew.
USDA GRIN Taxonomy: Garcinia gummi-gutta (L.) N. Robson.
"Potential treatments for insulin resistance in the horse: A comparative multi-species review". The Veterinary Journal. Science Direct. 186: 282–291.
"Meals that heal – Soul curry". The Hindu.
Lobb, A. (2009). "Hepatoxicity associated with weight-loss supplements: A case for better post-marketing surveillance". World Journal of Gastroenterology. 15 (14): 1786–1787.
The Use of Garcinia Extract (Hydroxycitric Acid) as a Weight loss Supplement: A Systematic Review and Meta-Analysis of Randomised Clinical Trials, Igho Onakpoya, Shao Kang Hung, Rachel Perry, BarbaraWider, Edzard Ernst, Hindawi Publishing Corporation – Journal of Obesity (Volume 2011, Article ID 509038, 9 pages).
Publications & Information Directorate, Council of Scientific & Industrial Research (1986). G. cambogia Desr. The Useful Plants of India. (New Delhi: Publications & Information Directorate, 1986) 229.
"Fruit yellowish or reddish, size of an orange having six or eight deep longitudinal grooves in its fleshy pericarp. Pulp acid of a pleasant flavor. It is dried among the Singalese who use it in curries." Uphof, J.C. Th. (1968).
Rajeswari, N (29 July 2014). "Botanical Bonanza". Deccan Herald, Spectrum.
"The acid rinds of the ripe fruit are eaten, and in Ceylon are dried, and eaten as a condiment in curries." Drury, Heber (1873). "Garcinia gambogia (Desrous) N. 0. Clusiaceae". The Useful Plants of India, second edition. London: William H. Allen & Co. p. 220.

"G. Gummi-Gutta (Garcinia Cambogia) – An Ancient Indian Curry Condiment"

. US Premium Garcinia Cambogia.
"Kudampuli meencurry (fish curry with Malabar tamarind)". Secret Indian Recipe.
"Kaeng Som Kung (Sour Curry with Shrimp)". Saveur. 26 February 2015.
"Gaeng Som Recipe, Thai Sour Curry Recipe of Shrimp, Okra and Roselle Leaves". Thai Food Master. 30 March 2011.
Garcinia cambogia (Hydroxycitric Acid) as a Potential Antiobesity Agent: A Randomized Controlled Trial, Steven B. Heymsfield, MD; David B. Allison, PhD; Joseph R. Vasselli, PhD; Angelo Pietrobelli, MD; Debra Greenfield, MS, RD; Christopher Nunez, MEd, JAMA – The Journal of the American Medical Association (1998;280(18):1596-1600)
The Dr. Oz Show (November 5, 2012). Garcinia Cambogia: The Newest, Fastest Fat-Buster.
Christensen, Jen and Wilson Jacque (19 June 2014). "Congressional hearing investigates Dr. Oz 'miracle' weight loss claims". CNN Health.
"Efficacy of Garcinia Cambogia on Body Weight, Inflammation and Glucose Tolerance in High Fat Fed Male Wistar Rats", Ramalingam Sripradha, Sridhar Gopalakrishna Magadi, J Clin Diagn Res. 2015 Feb; 9(2): BF01–BF04.
Márquez F1, Babio N, Bulló M, Salas-Salvadó J (2012). "Evaluation of the safety and efficacy of hydroxycitric acid or Garcinia cambogia extracts in humans". Crit Rev Food Sci Nutr. 52 (7): 585–94.
Vasques, C. A.; Schneider, R; Klein-Júnior, L. C.; Falavigna, A; Piazza, I; Rossetto, S (2013). "Hypolipemic Effect of Garcinia cambogia in Obese Women". Phytotherapy Research. 28 (6): 887–91.
Belluz, Julia; Hoffman, Steven J. (1 January 2013). "Dr. Oz's Miraculous Medical Advice; Pay no attention to that man behind the curtain". Slate. The Slate Group.
Pittler, M. H.; Ernst, E (2004). "Dietary supplements for body-weight reduction: A systematic review". The American Journal of Clinical Nutrition. 79 (4): 529–36.
Kim YJ1, Choi MS, Park YB, Kim SR, Lee MK, Jung UJ (2013). "Garcinia Cambogia attenuates diet-induced adiposity but exacerbates hepatic collagen accumulation and inflammation". World J Gastroenterol. 19 (29): 4689–701.
Soni, MG (2004). "Safety assessment of (-)-hydroxycitric acid and Super CitriMax, a novel calcium/potassium salt.". Food Chem Toxicol. 42 (9).
Lopez, AM (2014). "Serotonin toxicity associated with Garcinia cambogia over-the-counter supplement.". J Med Toxicol. 10 (4).
Council of Scientific and Industrial Research, India The wealth of India: a dictionary of Indian raw materials and industrial products. Raw materials. Delhi. 1948-1976 (Wealth India RM).
Duke, J. A. et al. CRC Handbook of medicinal herbs. 2002 (CRC MedHerbs ed2).
Foster, S. & V. E. Tyler Tyler's honest herbal: a sensible guide to the use of herbs and related remedies, ed. 4. 1999 (Tyler Herbal).
Matthew, K. M. The flora of the Tamilnadu Carnatic. 1983 (F TamilC).
McGuffin, M., J. T. Kartesz, A. Y. Leung, & A. O. Tucker Herbs of commerce, ed. 2. 2000 (Herbs Commerce ed2).
Parrotta, J. A. Healing plants of peninsular India. 2001 (Healing Pl India).
Porcher, M. H. et al. Searchable World Wide Web Multilingual Multiscript Plant Name Database (MMPND) (on-line resource). (Pl Names).
Saldanha, C. J. & D. H. Nicolson Flora of Hassan district. 1976 (F Hassan).
Sharma, B. D. et al., eds. Flora of India. 1993- (F India).
Wiersema, J. H. & B. León World economic plants: a standard reference (on-line edition) [medicinal plants only]. (World Econ Pl Med).
EGRAS, Amy M., et al. An evidence-based review of fat modifying supplemental weight loss products. Journal of obesity, 2010, 2011.
Garcinia gummi-gutta (Wikipedia) – https://en.wikipedia.org/wiki/Garcinia_gummi-gutta.
Available under conditions of the license: https://creativecommons.org/licenses/by-sa/3.0/deed.en