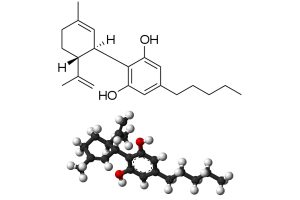 CBD or cannabidiol is one of the most promising therapeutic substances discovered in nature and one of the 100 known active ingredients recognized in cannabis plant. CBD has so far been considered the most effective of the cannabinoids tested in the treatment of serious civilization, chronic and even fatal diseases. It is not surprising that in recent years, it has been triggering an increasing interest of scientists and physicians, as well as patients who use it with a therapeutic effect – difficult to compare with chemical agents.

CBD and THC are compounds occuring in cannabis in the greatest concentrations, which is why the results of their operation have been studied the best so far. As CBD does not cause any psychotic reactions – it can be safely used even by small children. As a substance, it is legal and authorized. THC is illegal (due to intoxicating and addictive properties). CBD, however, is not addictive and what is very important – studies carried out so far have proven no side effects of preparations containing cannabidiol, on the human body. CBD works extremely strong on the cannabinoid system – a system similar in terms of action and aim to the immune system, and responsible for maintaining homeostasis within the body.
How does the CBD affect the body?
Cannabidiol causes endocannabinoid receptors system reactions.
The endocannabinoid system receptors are scattered throughout all human body and their highest concentration occurs in the brain and intestines.
Endocannabinoids are produced by our body – they are natural substances and primarily needed for many life processes, such as:
nervous system protection,
reducing the effects of stress,
regulating immunity, appetite, sleep and wakefulness periods, pain levels and mood.
In contrast to THC, CBD does not directly affect the CB1 and CB2 receptors, therefore it does not cause a psychotic effect, while it inhibits the enzymes that cause endocannabinoid breakdown, thus leading to the growth of naturally occurring endocannabinoids in the human body.
What does the CBD help for?
The use of CBD oil and other preparations containing cannabidiol is very broad, but, as reported by patients, it brings particularly good results in the treatment of neurodegenerative diseases, such as:
multiple sclerosis,
Alzheimer's disease,
or Parkinson's disease.
As CBD has strong anti-inflammatory properties, its action brings relief to all types of chronic and recurrent inflammatory diseases, e.g. in:
Crohn's disease,
or chronic polyarthritis.
This substance has also indicated effectiveness in psychogenic-induced disorders such as psychosis, anxiety, addictions, and depressive states of varied course. Particularly good results have been demonstrated by the use of CBD in the treatment of epilepsy (epilepsy). There are documented cases of reduction in the number of seizure attacks following the use of cannabidiol oil. Preparations containing CBD have also been found to be helpful for patients suffering from cancer. Cannabidiol alleviates, inter alia, the effects of chemotherapy, therefore it can be used in combination therapies, and furthermore it inhibits the growth of cancerogenic cells, and due to the strong immunostimulatory properties it may also lead to the regression of existing tumors.
What are the healing properties of cannabidiol?
As indicated by the research and the case studies on patiens, the entire spectrum of therapeutic activities are attrubuted to cannabidiol, among them:
anti-inflammatory,
analgesic,
anticonvulsants,
immunostimulatory,
anti-cancer,
against anxiety,
antipsychotic,
antioxidant,
protective for the nervous system,
mitigating the effects of stress and fatigue,
antiemetic.
How to use CBD?
The dosage of cannabidiol depends on several factors and should always be considered individually, depending on the specific needs of the patient, the severity of the disease, general health state, as well as the reaction of the cannabinoid system.
Preparations with CBD
The most popular form of cannabidiol in the preparations is oil, as well as vaporizers, aromatic oils, capsules, and ointments.
Read also: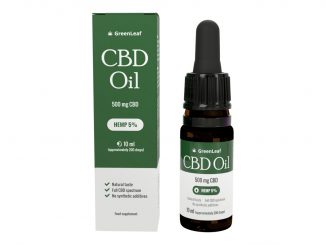 CBD oils have been used and praised by people struggling with various ailments for years. The oil owns its beneficial features to the presence of a compound called cannabidiol. Each GreenLeaf CBD Oil bottle contains 5%. Until recently it was available mainly abroad, today you can enjoy its merits at home thanks to GreenLeaf CBD Oil.
---
References & External links
---
---