Please, select Your language version: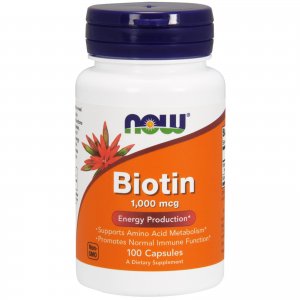 Biotin is a water-soluble vitamin necessary for normal growth and body function. Biotin functions as a key regulatory element in gluconeogenesis, fatty acid synthesis and in the metabolism of some amino acids. Alongside its role in energy production, Biotin enhances the synthesis of certain proteins. In addition, Biotin promotes healthy immune system function and plays a critical role in skin health.
Biotin, 1000 mcg, 100 Capsules – Ingredients
Supplement Facts
Name:
Biotin, 1000 mcg, 100 Capsules
Serving Size:
1 Capsule
Amount Per Serving
% Daily Value
Vitamin C (Ascorbyl Palmitate)
4 mg
7%
Biotin
1 mg (1,000 Mcg)
333%
Detailed information on the ingredients of the Biotin, 1000 mcg, 100 Capsules supplement can be found at The Best Supplements site: Biotin, 1000 mcg, 100 Capsules (Now Foods).
Caution
Store in a cool, dry place after opening.
Caution: For adults only. Consult physician if pregnant/nursing, taking medication, or have a medical condition. Keep out of reach of children.
---
Biotin, 1000 mcg, 100 Capsules:
Hair, Skin & Nails, Biotin, Energy Production, Supports Amino Acid Metabolism, Promotes Normal Immune Function, Non-GMO, A Dietary Supplement, Vitamins, Family Owned Since 1968, GMP Quality Assured, Energy Production*.
---
---