Please, select Your language version: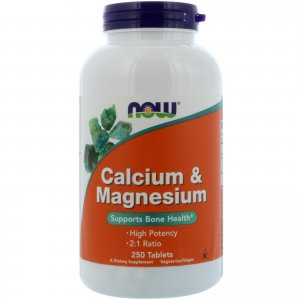 NOW Calcium & Magnesium combines two essential minerals that work together to maintain several critical physiological processes. They are both necessary for normal neural, muscular, and blood vessel function, as well as for the maintenance of proper bodily fluid balance. Calcium and Magnesium also support the formation and maintenance of a healthy skeleton.
Calcium & Magnesium, 250 Tablets – Ingredients
Supplement Facts
Name:
Calcium & Magnesium, 250 Tablets
Serving Size:
2 Tablets
Servings Per Container:
125
Amount Per Serving
%Daily Value
Calcium (Calcium Carbonate, Calcium Citrate, Calcium Ascorbate)
1 g (1,000 mg)
77%
Magnesium (Magnesium Oxide, Magnesium Citrate, Magnesium Ascorbate)
500 mg
119%
Detailed information on the ingredients of the Calcium & Magnesium, 250 Tablets supplement can be found at The Best Supplements site: Calcium & Magnesium, 250 Tablets (Now Foods).
Caution
Caution: For adults only. Consult physician if pregnant/nursing, taking medication, or have a medical condition. Keep out of reach of children.
Do not eat freshness packet. Keep in bottle.
Natural color variation may occur in this product.
Store in a cool, dry place after opening.
---
Calcium & Magnesium, 250 Tablets:
Minerals, Calcium, Calcium & Magnesium, Supports Bone Health, High Potency, 2:1 Ratio, A Dietary Supplement, Vegetarian – Vegan, Kosher, Minerals, Family Owned Since 1968, GMP Quality Assured.
---
---