Please, select Your language version: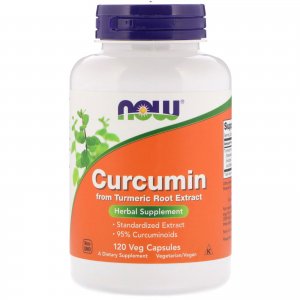 Curcumin is the major bioactive component found in the roots of Turmeric (Curcuma longa), a plant belonging to the ginger family. Turmeric has been used as a coloring and flavoring agent is South Asian cuisines for centuries, and it has also been recommended by traditional Ayurvedic herbalists for thousands of years. Curcumin has been extensively researched by modern scientists for its various biological activities.
Curcumin, 120 Veg Capsules – Ingredients
Supplement Facts
Name:
Curcumin, 120 Veg Capsules
Serving Size:
1 Veg Capsule
Amount Per Serving
% Daily Value
Turmeric Root Extract (Curcuma Longa) [Standardized to min. 95% Curcuminoids (630 mg) (Including Curcumin, Demethoxycurcumin and Bisdemethoxycurcumin)]
665 mg
*)
*) Daily Value not established.
Detailed information on the ingredients of the Curcumin, 120 Veg Capsules supplement can be found at The Best Supplements site: Curcumin, 120 Veg Capsules (Now Foods).
Caution
Store in a cool, dry place after opening
Caution: For adults only. Consult physician if pregnant/nursing, taking medication, have a medical condition, or have any history of liver, gall bladder, or gastrointestinal problems. Keep out of reach of children.
Natural color variation may occur in this product.
Do not eat freshness packet. Keep in bottle.
---
Curcumin, 120 Veg Capsules:
Antioxidants, Turmeric & Curcumin, Curcumin, From Turmeric Root Extract, Herbal Supplement, Standardized Extract, 95% Curcuminoids, Non-GMO, A Dietary Supplement, Vegetarian/Vegan, Kosher, Botanicals/Herbs, Family Owned Since 1968, GMP Quality Assured.
---
---