Please, select Your language version: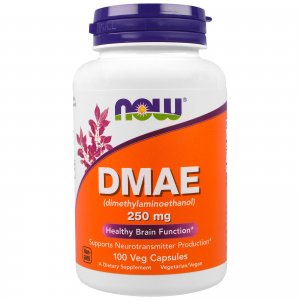 DMAE (dimethylaminoethanol) is a natural amino alcohol that is found in minute quantities in the brain. It is generally regarded as a precursor to the essential nutrient choline, which is needed for the brain to produce acetylcholine, a neurotransmitter involved in nerve signal transmission and healthy brain function.
DMAE, 250 mg, 100 Veggie Caps – Ingredients
Supplement Facts
Name:
DMAE, 250 mg, 100 Veggie Caps
Serving Size:
1 Veg Capsule
Amount Per Serving
% Daily Value
DMAE (DIMETHYLAMINOETHANOL) (DIMETHYLAMINOETHANOL bitartrate)
250 mg
*)
*)Daily Value not established.
Detailed information on the ingredients of the DMAE, 250 mg, 100 Veggie Caps supplement can be found at The Best Supplements site: DMAE, 250 mg, 100 Veggie Caps (Now Foods).
Caution
Natural color variations may occur in this product.
Store in a cool, dry place after opening. Please recycle.
Caution: For adults only. Not to be used if pregnant/nursing or have epilepsy, bipolar condition, schizophrenia or Parkinson's disease. Consult physician if taking medication or have a medical condition. Keep out of reach of children. Do not eat freshness packet. Keep in bottle.
---
DMAE, 250 mg, 100 Veggie Caps:
Healthy Lifestyles, DMAE, Dimethylaminoethanol, Healthy Brain Function, Supports Neurotransmitter Production, Non-GMO, A Dietary Supplement, Vegetarian/Vegan, General Health, Family Owned Since 1968, GMP-Quality Assured, Healthy Brain Function*.
---
---