Please, select Your language version: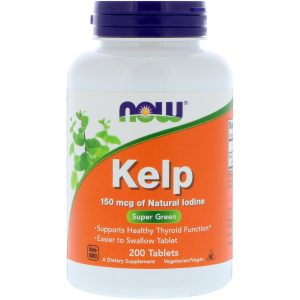 NOW Kelp delivers the natural nutrient profile found in Genuine Whole Foods.Kelp is a large, leafy seaweed belonging to the brown algae family that grows in 'forests' in the colder waters of the world's oceans. Kelp has been used for centuries as an important nutritious staple ingredient in Chinese, Japanese, and Korean cuisines. It is also an excellent source of iodine, which has been shown to be essential for healthy thyroid function.
Kelp, 150 mcg, 200 Tablets – Ingredients
Supplement Facts
Name:
Kelp, 150 mcg, 200 Tablets
Serving Size:
1 Tablet
Amount Per Serving
% Daily Value
Iodine (Organic Kelp) (Laminaria)(Whole Plant)
150 mcg
100%
Detailed information on the ingredients of the Kelp, 150 mcg, 200 Tablets supplement can be found at The Best Supplements site: Kelp, 150 mcg, 200 Tablets (Now Foods).
Caution
Caution: For adults only. Consult physician if pregnant/nursing, taking medication (especially thyroid medications), taking other iodine supplements, or have a medical condition (especially any thyroid disorder). Keep out of reach of children.
Natural color variation may occur in this product.
Store in a cool, dry place after opening.
---
Kelp, 150 mcg, 200 Tablets:
Greens & Superfoods, Algae, Kelp, 150 mcg of Natural Iodine, Supports Healthy Thyroid Function, Easier to Swallow Tablet, Non-GMO, Kosher, A Dietary Supplement, Vegetarian/Vegan, Botanicals/Herbs, Family Owned Since 1968, GMP Quality Assured, Super Green.
---
---