Please, select Your language version: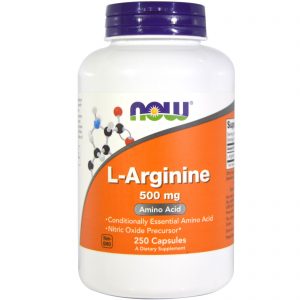 Amino AcidL-Arginine is a conditionally essential basic amino acid involved primarily in urea metabolism and excretion, as well as DNA synthesis and protein production. It is an important precursor of Nitric Oxide (NO) and thus plays a role in the dilation of blood vessels.
L-Arginine, 500 mg, 250 Capsules – Ingredients
Supplement Facts
Name:
L-Arginine, 500 mg, 250 Capsules
Serving Size:
2 Capsules
Servings Per Container:
125
Amount Per Serving
% Daily Value
L-Arginine (FREE-FORM)
1 g (1,000 mg)
*)
*) Daily Value not established.
Detailed information on the ingredients of the L-Arginine, 500 mg, 250 Capsules supplement can be found at The Best Supplements site: L-Arginine, 500 mg, 250 Capsules (Now Foods).
Caution
Store in a cool, dry place after opening.
Please recycle.
Caution: For adults only. Consult physician if pregnant/nursing, taking medication, or have a medical condition. This supplement should be avoided by persons with glaucoma or herpes simplex unless otherwise prescribed by a physician. Do not use if you have had a myocardial infarction or have established coronary artery disease. Keep out of reach of children.
---
L-Arginine, 500 mg, 250 Capsules:
Amino Acids, L-Arginine, Non-GMO, A Dietary Supplement, Amino Acids, Family Owned Since 1968, GMP Quality Assured, Conditionally Essential Amino Acid, Nitric Oxide Precursor.
---
---