Please, select Your language version: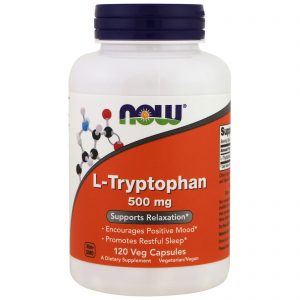 L-Tryptophan is an essential amino acid; therefore, it is not synthesized by the body and must be obtained from the diet. L-Tryptophan is critical for the production of serotonin and melatonin, which help to support a positive mood, healthy sleep patterns, and proper immune system function. Every lot of NOW L-Tryptophan is tested to be free of Peak E and microbial contamination.
L-Tryptophan, 500 mg, 120 Veg Caps – Ingredients
Supplement Facts
Name:
L-Tryptophan, 500 mg, 120 Veg Caps
Serving Size:
2 Veg Capsules
Servings Per Container:
60
Amount Per Serving
% Daily Value
L-Tryptophan (FREE-FORM)
1 g (1,000 mg)
*)
*) Daily Value not established.
Detailed information on the ingredients of the L-Tryptophan, 500 mg, 120 Veg Caps supplement can be found at The Best Supplements site: L-Tryptophan, 500 mg, 120 Veg Caps (Now Foods).
Caution
Do not eat freshness packet. Keep in bottle.
Natural color variation may occur in this product.
Store in a cool, dry place after opening after opening.
For adults only. Consult physician if pregnant/nursing, taking medication (especially antidepressants such as SSRIs and MAOIs), or have a medical condition. May cause drowsiness. Do not use with alcoholic beverage or while operating heavy machinery. Keep out of reach of children.
---
L-Tryptophan, 500 mg, 120 Veg Caps:
Sleep, L-Tryptophan, Supports Relaxation, Encourages Positive Mood, Promotes Restful Sleep, Non-GMO, A Dietary Supplement, Vegetarian/Vegan, Amino Acids, Family Owned Since 1968, GMP Quality Assured.
---
---