Please, select Your language version: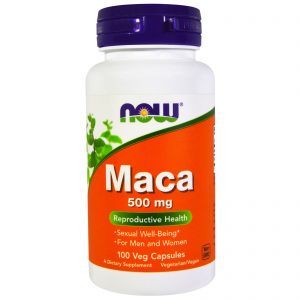 Maca (Lepidium meyenii) is grown at high elevations in the Andes region of Central Peru. It has been traditionally used for centuries as a food source and as a general energy tonic. More recent scientific research suggests that Maca may help to support a healthy reproductive life for both men and women. Clinical data indicate that Maca does not exert a direct effect on endocrine function.
Maca, 500 mg, 100 Veg Capsules – Ingredients
Supplement Facts
Name:
Maca, 500 mg, 100 Veg Capsules
Serving Size:
1 Veg Capsule
Amount Per Serving:
% Daily Value
Maca (Lepidium Meyenii) (Root)
500 mg
*)
*) Daily Value not established.
Detailed information on the ingredients of the Maca, 500 mg, 100 Veg Capsules supplement can be found at The Best Supplements site: Maca, 500 mg, 100 Veg Capsules (Now Foods).
Caution
Store in a cool, dry place after opening.
For adults only. Consult physician if pregnant/nursing, taking medication, or have a medical condition. Keep out of reach of children.
Do not eat freshness packet. Keep in bottle.
---
Maca, 500 mg, 100 Veg Capsules:
Herbs & Homeopathy, Herbs, Maca, Reproductive Health, Sexual Well-Being, For Men and Women, A Dietary Supplement, Vegetarian/Vegan, Non-GMO, Botanicals/Herbs, Family Owned Since 1968, GMP Quality Assured, Reproductive Health*.
---
---