Please, select Your language version: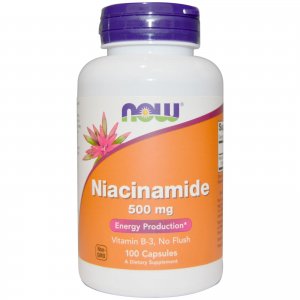 Niacinamide and Niacin are two different forms of Vitamin B3. Niacinamide does not cause a Niacin flush.Niacinamide (Vitamin B3) is a form of Niacin, a water soluble B-Vitamin. It is a derivative of Niacin that does not cause the 'flush' normally associated with taking high doses of Niacin. Niacinamide is readily converted into the bioactive forms of Niacin, NAD+, NADH, NADP, and NADPH, which are vital cofactors in cellular energy production and are critical for the maintenance of DNA stability.
Niacinamide, 500 mg, 100 Capsules – Ingredients
Supplement Facts
Name:
Niacinamide, 500 mg, 100 Capsules
Serving Size:
1 Capsule
Amount Per Serving:
% Daily Value
Niacin (Niacinamide) (Vitamin B3)
500 mg
2500%
Detailed information on the ingredients of the Niacinamide, 500 mg, 100 Capsules supplement can be found at The Best Supplements site: Niacinamide, 500 mg, 100 Capsules (Now Foods).
Caution
Store in a cool, dry place after opening.
Caution: For adults only. Consult physician if pregnant/nursing, taking medication, or have a medical condition (liver problems, stomach ulcers, diabetes, gout, etc.). Keep out of reach of children.
Natural color variation may occur in this product.
---
Niacinamide, 500 mg, 100 Capsules:
Vitamins, Vitamin B, B3 Niacin, Energy Production, Vitamin B3, No Flush, Non-GMO, A Dietary Supplement, Vitamins, Family Owned Since 1968, GMP Quality Assured, Energy Production*.
---
---