Please, select Your language version: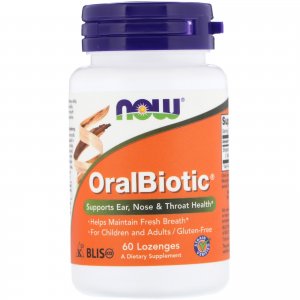 Among the most numerous beneficial bacteria in the mouth, Streptococcus salivarius is typically the first one acquired in infancy. Blis K12 is a powerful strain of S. salivarius that, when taken regularly, colonizes the mouth and throat and helps to maintain the natural defense system of the main entry point of the body. Blis K12 has been clinically shown to support the maintenance of mouth, ear, nose, and throat health in children. OralBiotic may also help to maintain fresh breath when used regularly.
OralBiotic, 60 Lozenges – Ingredients
Supplement Facts
Name:
OralBiotic, 60 Lozenges
Serving Size:
2 Lozenges
Serving Per Container:
30
Amount Per Serving
% Daily Value
Streptococcus salivarius K12 (Blis K12) (1 Billion Cfu†)
42 mg
*)
*) Daily Value not established.
Detailed information on the ingredients of the OralBiotic, 60 Lozenges supplement can be found at The Best Supplements site: OralBiotic, 60 Lozenges (Now Foods).
Caution
Caution: Consult physician if pregnant/nursing, taking medication (especially immune-suppressing drugs), or have a medical condition (especially if immune system is compromised). Because some antibiotics may inactivate S. salivarius, take at least 2 hours before or after taking antibiotic medications. Keep out of reach of children. Contains xylitol, which is harmful to pets.
---
OralBiotic, 60 Lozenges:
Bath & Personal Care, Oral Care, Dental Gum, Mints & Lozenges, Lozenges, Supports Ear, Nose & Throat Health, Helps Maintain Fresh Breath, For Children and Adults / Gluten Free, Kosher Dairy, BlisK12, A Dietary Supplement, Strain Free, Digestive, Family Owned Since 1968, GMP Quality Assured, Supports Ear, Nose & Throat Health*.
---
---