Please, select Your language version: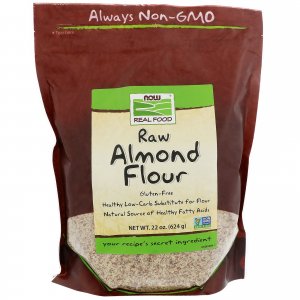 Almonds aren't just a healthy snack food; they're also an excellent addition to many other popular foods. Almonds can also be used to make a wholesome and delicious flour that can be substituted for white flour in almost any recipe.NOW Real Food Raw Almond Flour is 100% pure, unbalanced, gluten-free, and low in carbs, making it a healthy, and tasty, alternative to bleached white flour. Almond Flour adds a rich texture and color to your favorite baked goods. Fresher ingredients simply taste better, which is why this product is packaged using NOW Fresh Fill Technology to maximize flavor and freshness. Because you are what you eat, NOW Real Food has been committed to providing delicious, healthy, natural and organic foods since 1968. We're independent, family owned, and proud of it. Keep it natural. Keep it real.
Real Food, Raw Almond Flour, 22 oz (624 g) – Ingredients
Supplement Facts
Name:
Real Food, Raw Almond Flour, 22 oz (624 g)
Serving Size:
1/4 cup (24 g)
Serving Per Container:
about 26
Amount Per Serving
%Daily Value*
Calories
140
Calories from Fat
110
Total Fat
12 g
18%
Saturated Fat
1 g
5%
Trans Fat
0 g
Cholesterol
0 mg
0%
Sodium
0 mg
0%
Potassium
170 mg
5%
Total Carbohydrate
4 g
1%
Dietary Fiber
3 g
12%
Sugars
1 g
Protein
5 g
10%
Vitamin A
0%
Vitamin C
0%
Calcium
6%
Iron
6%
*)Percent Daily Values are based on a 2,000 calorie diet.
Detailed information on the ingredients of the Real Food, Raw Almond Flour, 22 oz (624 g). When substituting Almond Flour for other flours used in recipes, use roughly the same amount of Almond Flour, but reduce the amount of liquid slightly. As with most recipe substitutions, some experimentation may be necessary to obtain the best results. Refrigeration recommended after opening.
---
Real Food, Raw Almond Flour, 22 oz (624 g):
Grocery, Baking, Flour & Mixes, Almond Flour & Meal, Always Non-GMO, Gluten-Free, Healthy Low-Carb Substitute for Flour, Natural Source of Healthy Fatty Acids, Non GMO Project Verified, Your Recipe's Secret Ingredient, Vegetarian-Vegan Product.
---
---