Please, select Your language version: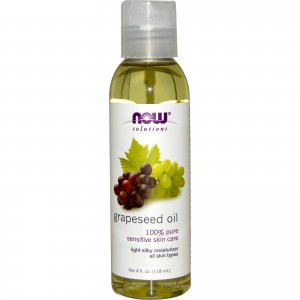 Condition: Sensitive skin in need of an all natural moisturizer and protection from premature aging, without clogging pores and causing breakouts.Solution: 100% Pure Grapeseed Oil is a light, odorless oil with mild astringent and emollient properties. This versatile oil contains numerous essential fatty acids including Linoleic, Oleic, Stearic, Palmitic, Myristic and Lauric. Its rich, silky texture is perfect for soothing away dryness and irritation and is suitable for all skin types since it won't clog pores or cause break-outs. Grapeseed Oil is perfect as a base for lotions, and it's mild enough to use as a conditioner for all hair types. NOW Solutions is the next step in the evolution of personal care products. This comprehensive natural line encompasses anti-aging moisturizers and serums, bath and body gels, shampoos and conditioners, oral care, skin care, and essential oils, all of which are formulated with the finest functional ingredients from around the world. NOW Solutions products avoid harsh chemicals and synthetic ingredients in all of our formulations, to provide a more natural product line.
Detailed information on the ingredients of the Solutions, Grapeseed Oil, 4 fl oz (118 ml). As a natural moisturizer, apply oil directly to skin or use as a base for lotions.
---
Solutions, Grapeseed Oil, 4 fl oz (118 ml):
Bath & Personal Care, Body Care, Body & Massage Oils, Grapeseed, Beauty, Face Moisturizers & Creams, Face Oils, 100% Pure Sensitive Skin Care, Light Silky Moisturizer, All Skin Types, NOW Does Not Test on Animals, Clear Bottle Contains UV Light Protectant.
---
---