Please, select Your language version: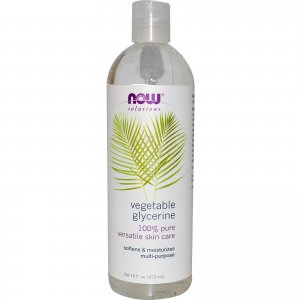 Condition: Rough skin, simple cosmetic applications.Solution: Pure Vegetable Glycerine is an outstanding moisturizer and skin cleanser that also provides softening and lubricating benefits. It's hypoallergenic and easily soluble in water, making it suitable for use in all of your favorite cosmetic applications. 100% Pure Vegetable Glycerine has a long shelf life and does not easily oxidize. It is an all-natural product derived from Non-GMO palm oil or vegetable oil. NOW Solutions is the next step in the evolution of personal care products. This comprehensive natural line encompasses anti-aging moisturizers and serums, bath and body gels, shampoos and conditioners, oral care, skin care, and essential oils, all of which are formulated with the finest functional ingredients from around the world. NOW Solutions products avoid harsh chemicals and synthetic ingredients in all of our formulations, to provide a more natural product line.
Solutions, Vegetable Glycerine, 16 fl oz (473 ml) – Ingredients
Detailed information on the ingredients of the Solutions, Vegetable Glycerine, 16 fl oz (473 ml). For soft, luxurious skin simply massage a few drops of 100% Pure Vegetable Glycerine on the desired area as needed.
Caution
NOW does not test on animals. Please recycle.
Discontinue use if redness or irritation occurs.
Clear bottle contains UV light protectant.
---
Solutions, Vegetable Glycerine, 16 fl oz (473 ml):
Bath & Personal Care, Body Care, Body & Massage Oils, 100% Pure Versatile Skin Care, Softens & Moisturizes, Multi-Purpose.
---
---