Please, select Your language version: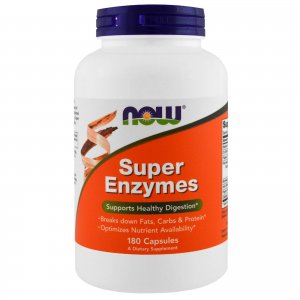 NOW Super Enzymes is a comprehensive blend of enzymes that supports healthy digestion. Formulated with Bromelain, Ox Bile, Pancreatin and Papain, Super Enzymes helps to optimize the breakdown of fats, carbohydrates and protein.
Super Enzymes, 180 Capsules – Ingredients
Supplement Facts
Name:
Super Enzymes, 180 Capsules
Serving Size:
1 Capsule
Amount Per Serving:
% Daily Value
Betaine HCI
200 mg
*)
Ox Bile Extract (Min. 45% Total Cholic Acids)
100 mg
*)
Papaya Fruit Powder (Carica Papaya)
45 mg
*)
Pancreatin 11X Supplying: Amylase 37,000 USP Units Protease 37,000 USP Units Lipase 2,960 USP Units
134 mg
*)
Bromelain (PINEAPPLE) (120 Gdu)
40 mg
*)
Acid Stable Protease (ASPERGILLOPEPSIN) (50 Sapu)
10 mg
*)
Papain (Papaya) (Carica Papaya) (100,000 Fcc Pu)
2 mg
*)
Cellulase (10 Cu)
0.1 mg
*)
*) Daily Value not established.
Detailed information on the ingredients of the Super Enzymes, 180 Capsules supplement can be found at The Best Supplements site: Super Enzymes, 180 Capsules (Now Foods).
Caution
Store in a cool, dry place after opening.
Caution: For adults only. Consult physician if pregnant/nursing, taking medication (especially blood thinners), or have a medical condition (including allergy to papaya, pineapple). Keep out of reach of children.
Do not eat freshness packets. Keep in bottle.
Natural color variation may occur in this product.
---
Super Enzymes, 180 Capsules:
Digestion, Digestive Enzymes, Digestive Enzyme Formulas, Supports Healthy Digestion, Breaks Down Fats, Carbs & Protein, Optimizes Nutrient Availability, A Dietary Supplement, Probiotics/Enzymes/Digestive, Family Owned Since 1968, GMP Quality Assured.
---
---