Please, select Your language version: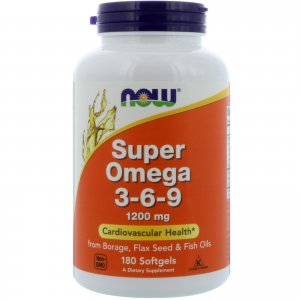 Super Omega 3-6-9 is a blend of Fish, Borage and Flax Seed Oils (Linum Usitatissimum). This combination of well-known nutritional oils has a unique balance of Omega-3 and Omega-6 Essential Fatty Acids plus Omega-9, a non-essential, but useful fatty acid. The Omega-3's, Alpha-Linolenic Acid ALA, EPA and DHA, and the Omega-6, GLA, are necessary for the maintenance of healthy skin, normal immune system balance, and proper nervous system function.
Super Omega 3-6-9, 1200 mg, 180 Softgels – Ingredients
Supplement Facts
Name:
Super Omega 3-6-9, 1200 mg, 180 Softgels
Serving Size:
2 Softgels
Servings Per Container:
90
Amount Per Serving
%Daily Value
Omega-3 Fatty Acids
Calories
25
Total Fat
2.5 g
3%*)
Saturated Fat
< 0.5 g
2%*)
Polyunsaturated Fat
1.5 g
†
Monounsaturated Fat
0.5 g
†
Protein
< 1 g
1%*)
Borage Oil (Borago Officinalis) (Seed)
800 mg
†
Natural Fish Oil Concentrate
800 mg
†
Organic Flax Seed Oil (Linum Usitatissimum)
800 mg
†
*) Percent Daily Values are based on a 2,000 calorie diet. † Daily Value not established.
Naturally occurring fatty acids (EXAMPLE) (Per Serving)*)*)
604 mg ( EPA : 126 Mg; DHA 78 mg)
Omega-6 Fatty Acids
539 mg ( GLA : 160 mg)
Omega-9 Fatty Acids
225 mg
*)
*) subject to natural variability
Detailed information on the ingredients of the Super Omega 3-6-9, 1200 mg, 180 Softgels supplement can be found at The Best Supplements site: Super Omega 3-6-9, 1200 mg, 180 Softgels (Now Foods).
Caution
Caution: For adults only. Consult physician if pregnant/nursing, taking medication, or have a medical condition. Keep out of reach of children.
Natural color variation may occur in this product.
Store in a cool, dry place after opening.
---
Super Omega 3-6-9, 1200 mg, 180 Softgels:
Fish Oil & Omegas (EPA DHA) Eicosapentaenoic Acid, Docosahexaenoic Acid, EFA, Omega 3-6-9 Combinations, Condition Specific Formulas, Cardiovascular Health, From Borage, Flax Seed & Fish Oils, Non-GMO, Kosher – Contains Gelatin, A Dietary Supplement, Nutritional Oils, Family Owned Since 1968, GMP Quality Assured.
---
---