Please, select Your language version: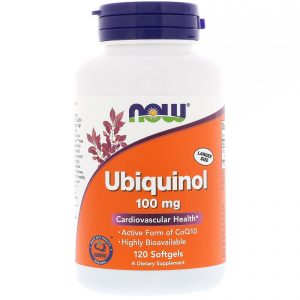 Ubiquinol is the reduced and active free radical quencher form of Coenzyme Q10 (CoQ10). CoQ10 is found in all cells of the body, with especially high concentrations in the heart, and is essential to mitochondrial energy production and functions as a powerful, fat soluble, free radical scavenger. These properties make Ubiquinol and ideal supplement for the support of energy production and free radical protection in the heart, vascular structures, brain and neurons. Ubiquinol has been shown to be highly bioavailable and the addition of MCT Oil (medium chain triglycerides) to this product naturally improves it solubility and enhances intestinal absorption, thereby creating a product with a superior biological value.
Ubiquinol, 100 mg, 120 Softgels – Ingredients
Supplement Facts
Name:
Ubiquinol, 100 mg, 120 Softgels
Serving Size:
1 Softgel
Amount Per Serving
%Daily Value
Ubiquinol (Kaneka Ubiquinol) (Reduced Form Coq10)
100 mg
*)
*) Daily Value not established.
Detailed information on the ingredients of the Ubiquinol, 100 mg, 120 Softgels supplement can be found at The Best Supplements site: Ubiquinol, 100 mg, 120 Softgels (Now Foods).
Caution
Caution: For adults only. Consult physician if pregnant/nursing, taking medication, or have a medical condition. Keep out of reach of children.
Do not eat freshness packet. Keep in bottle.
Natural color variation may occur in this product.
Store in a cool, dry place after opening.
---
Ubiquinol, 100 mg, 120 Softgels:
Antioxidants, Ubiquinol, CoQ10, Larger Size, Cardiovascular Health, Active Form of CoQ10, Highly Bioavailable, Made with Quality Kaneka Ubiquinol, A Dietary Supplement, General Health, Family Owned Since 1968, GMP Quality Assured.
---
---