Please, select Your language version: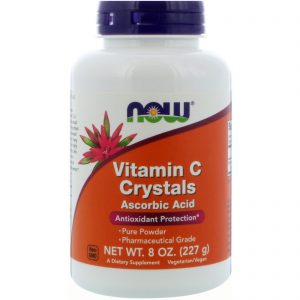 Vitamin C is a water soluble nutrient well known for its vital role in the immune system. Vitamin C is necessary for the production of collagen (a structural protein in connective tissue) and is therefore important for skin, bone, and joint health. Vitamin C is needed for amino acid metabolism and the utilization of many nutrients such as folic acid and iron. It is also a highly effective antioxidant that can protect the body's cells and molecules from damage by free radicals and reactive oxygen species generated during normal metabolism and exposure to environmental stressors.
Vitamin C Crystals, 8 oz (227 g) – Ingredients
Supplement Facts
Name:
Vitamin C Crystals, 8 oz (227 g)
Serving Size:
1/2 Level Teaspoon (2.25 g)
Servings Per Container:
about 101
Amount Per Serving
%Daily Value
Vitamin C (Ascorbic Acid)
2.25 g (2,250 mg)
2500%
Detailed information on the ingredients of the Vitamin C Crystals, 8 oz (227 g) supplement can be found at The Best Supplements site: Vitamin C Crystals, 8 oz (227 g) (Now Foods).
Caution
Caution: For adults only. Consult physician if pregnant/nursing, taking medication, or have a medical condition. Keep out of reach of children.
This product is sold by weight not volume.
Store in a cool, dry place after opening.
Natural color variation may occur in this product.
---
Vitamin C Crystals, 8 oz (227 g):
Vitamins, Vitamin C, Ascorbic Acid, Healthy Lifestyles, Cold, Cough & Flu, Ascorbic Acid, Antioxidant Protection, Pure Powder, Pharmaceutical Grade, Non-GMO, A Dietary Supplement, Vegetarian/Vegan, Vitamins, Family Owned Since 1968, GMP Quality Assured.
---
---