Please, select Your language version: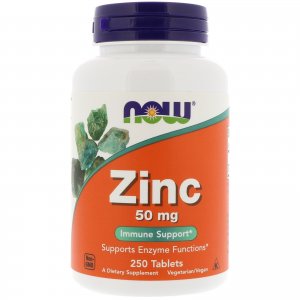 Zinc is essential to the normal function of many organs and systems within the body including the skeletal, immune, neurological, and endocrine systems. Zinc is a necessary mineral co-factor for hundreds of enzymatic reactions related to protein and carbohydrate metabolism, RNA/DNA synthesis, and intercellular signaling. It is also known to play a critical role in the body's defense against oxidative processes and is especially helpful for maintenance of healthy aging.
Zinc, 50 mg, 250 Tablets – Ingredients
Supplement Facts
Name:
Zinc, 50 mg, 250 Tablets
Serving Size:
1 Tablet
Amount Per Serving
%Daily Value
Zinc (Zinc Gluconate)
50 mg
455%
Detailed information on the ingredients of the Zinc, 50 mg, 250 Tablets supplement can be found at The Best Supplements site: Zinc, 50 mg, 250 Tablets (Now Foods).
Caution
Caution: For adults only. This product is not intended for long term use; use only as directed. Do not use if pregnant or nursing. Consult physician if taking medication or have a medical condition. Keep out of reach of children.
Natural color variation may occur in this product.
Store in a cool, dry place after opening.
---
Zinc, 50 mg, 250 Tablets:
Minerals, Zinc, Healthy Lifestyles, Cold, Cough & Flu, Immune Support, Supports Enzyme Functions, Non-GMO, A Dietary Supplement, Vegetarian – Vegan, Kosher, Minerals, Family Owned since 1968, GMP Quality Assured.
---
---