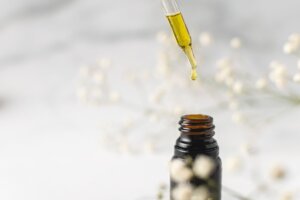 When talking about hemp, people often relate it to CBD. But waking up to the realities tells you the real difference. Hemp and CBD have distinctive differences. Hemp oil is a full-spectrum oil extracted from a hemp seed or cannabis Sativa plant.

In this regard, NCBI conducted Cannabis and Cannabinoid Research, explaining food-grain strains of hemp should have at least 0.3% of THC (tetrahydrocannabinol). THC is a component that may make people feel "high" for a certain amount of time if you don't know.
---
"Hemp is of first necessity to the wealth
and protection of the country" – Thomas Jefferson.
---
Here, it's essential to note that hemp oil is not similar to CBD (cannabidiol) oil. The extraction process used for CBD oil involves leaves, stalks, flowers from the hemp plant, and much more. This contains a higher amount and concentrates of CBD, which may be seen as its potential benefit. On the contrary, hemp seeds do not contain the same level of concentrates. However, it has a complete range of other necessary nutrients, including – bioactive components, fatty acids, and much more.
Role of hemp oil in improving your muscles
A whole-spectrum hemp extract or oil contains a series of ingredients, including – naturally-occurring phytonutrients, CBD, flavonoids, CBDA, hemp flower extracts, natural form of vitamin E, fractionated coconut oil, and much more.
Out of all these ingredients, vitamin E works as a highlighting factor contributing to your better muscle development and overall health. Here are the details.
---
Read also: Cannabis as a Fitness Booster: How is it Helpful?
---
Fitness freaks who exercise regularly need to pay thorough attention to their health regime. This should involve everything from diet to the exercising pattern. Vitamins should be treated as an integral part of your diet if you gym daily. It works as an elementary factor to improve your muscle recovery and development speed. Certain vitamins work on your cellular level and contribute to membrane repair, declining rate of oxidative damage, and so on.
Other hemp oil benefits are
It's a natural pain reliever – People often use hemp oil to treat inflammation issues. Those who tend to avoid over-the-counter pain reliever medications can put their trust in high-quality hemp oil. But ensure you buy it from a reliable hemp store selling lab-tested products. Quality hemp oil contains a good amount of CBD (one of the components found in hemp oil). It acts as a savior to help you escape inflammation issues.
Helps with muscle tension
If you gym daily, you are likely to experience muscle tension or soreness at one point in time. That's when you can consider having hemp oil as an effective remedy to stressed muscles. Its fatty acids and anti-inflammatory properties are best to promote the muscle recovery rate. Rub a limited amount of hemp oil on the affected area to experience sudden relaxation.
The final line
Vitamins play an inevitable role in muscle development and recovery. That's why fitness freaks recommend consuming different vitamins to keep their muscles in good shape and condition. However, it's essential to have a word with your fitness expert before including a specific type of vitamin in your diet.
---
---