Please, select Your language version: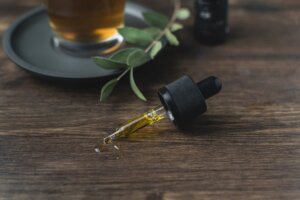 There are many different types of organic supplements on the market and each one can have a different benefit or effect on the body. While supplements are known for helping improve a person's physical health, they can also play a role in a person's mental health as well.
Taking organic supplements can help you reduce the symptoms of some mental health disorders and boost your mood. Here's what you need to know about mental health and organic supplements.
What Are Organic Supplements?
Organic supplements are extra doses of vitamins and nutrients that your body can use to maintain optimal health. The type of supplement can vary but it is important to choose organic options as they are a healthier and safer option. Organic supplements can be taken alongside a healthy diet.
How Do Organic Supplements Help Your Mental Health?
Supplements can help improve your mental and physical health in many ways. Certain supplements have different advantages than others and when choosing the right one, you should consult with your doctor and choose the supplement that meets your needs. Here are some of the ways organic supplements can improve your mental health.
Boost Your Mood
When your body is producing the right hormones and chemicals, your mind can feel calm and happy. CBD and other organic supplements can help the body produce endorphins and serotonin, which can make you feel happier and reduce anxiety.
Improve Brain Function
Some supplements are designed to help improve the pathways that control brain function and can help improve memory and critical thinking. Brain functions change as a person ages. Certain diet and activities changes can also have an effect on brain function. Organic supplements help reduce the severity of these changes to boost your mood and memory.
Sleep Support
The body and mind need an adequate amount of sleep in order to function properly. Many people have trouble falling asleep because of stress or even physical discomfort. CBD and other organic supplements can help by calming the mind and reducing physical pain so you can fall asleep more easily and stay asleep throughout the night. This can leave your feeling rested and refreshed in the morning.
How To Choose The Right Organic Supplements
If you are planning to try organic supplements you will need to choose the ones that are best for your wellness journey. Here are some things to consider when making your choice.
Ingredients
It's always important to look at the ingredients of any supplement. This will give you an idea of what to expect when you take them and help you decide if the product is safe for you. If you are allergic to certain ingredients you obviously will want to avoid products that include them. You should also avoid any ingredients that may react negatively with medications you take regularly. It's best to ask your doctor before taking any new supplement.
Dosage
Make sure you check the dosage suggestion and size before you buy a supplement. Some supplements may require large doses and others may provide the same benefits with small doses. Decide which type of dosage is right for you and choose the right supplement that fits your preference.
Cost
Nobody wants to overpay for a product, so it's important to compare the cost of different natural supplements. Don't just focus on the price though, keep in mind you are looking for a good value. You want to choose a supplement that includes high-quality ingredients, a fair amount of the active ingredient, and an affordable price.
If you are planning to try CBD supplements or any other type of organic supplement to help boost your mental health, be sure to consider the above information. Organic products can help improve how you feel mentally and physically and allow you to achieve optimum health. The more you know about these products before you buy them. The easier it will be to choose the ones that are right for you.
---
---