Please, select Your language version: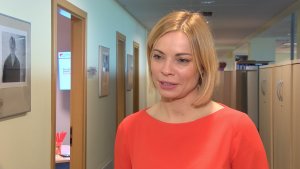 The liver cares for us, but do we look after it? If the way to the heart is through the stomach, is it to the liver too? Of course! Here are a few products that are worth implementing into the daily diet to assisst the liver and nurse for it, just as it takes care of us. What will help us regenerate the liver? Here are some tips prepared by Elżbieta Lange, an expert of the "Happy liver, happy you" campaign.

Statement: Elizabeth Lange, Psychodietitian, Diet Coach, Trainer of Healthy Lifestyle, expert of the "Happy liver, happy You" campaign.
Beetroot
Beetroots are vegetables rich in betanines that are powerful antioxidants. These compounds, thanks to the reduction of free radicals, prevent the formation of lipid oxidation by-products, which may cause a carcinogenic effect. In addition, they contain a large amount of soluble dietary fiber fraction, which increases the excretion of fat from the gastrointestinal tract and delays the absorption of triglycerides. Beets can be implemented into the diet in the form of a glass of raw juice 2 times a week, soups or as an addition to the main course.
Amaranth
It has been proven that amaranth is a great source of antioxidants due to its high content of phenols, tocopherols and other bioactive components. In addition, amaranth may have a protective effect on liver cells in relation to the toxic effects of alcohol and certain medications. Amaranth in the amount of 1-2 tablespoons will be great in the form of a snack as an addition to yogurt or breakfast porridge.
Kale
Kale is called a "king of greens" for a reason. It is a rich source of fiber, potassium, beta-carotene, iron, calcium, niacin, vitamins A, B1, B2, E and C, as well as chlorophyll. It manifests antioxidant, anti-inflammatory and anti-cancer properties. Kale goes very well with groats or meat. Even a small amount of fresh leaves will provide a substantial dose of antioxidants.
An avocado
Avocado is a rich source of such nutrients as vitamin E, lutein, glutathione, beta-stitosterol, folic acid, potassium, magnesium and dietary fiber. Avocado is a rich, natural source of L-aspartate, an amino acid necessary for the course of many metabolic processes occurring in the liver. The correct course of processes involving L-aspartate is one of the elements of proper detoxification of compounds harmful to the body.
Turmeric
Turmeric, and more precisely a yellow pigment – curcumin, shows a protective effect against various hepatotoxic agents, including alcohol, paracetamol or plant protection products. In addition, it improves the work of the liver, stimulating the production of bile and its secretion into the lumen of the duodenum, affects the inhibition of carcinogenic processes. A good method to improve functioning of the liver may be including curcuma into the diet by adding a pinch to groats, meats and drinking turmeric infusion.
---
---