Please, select Your language version: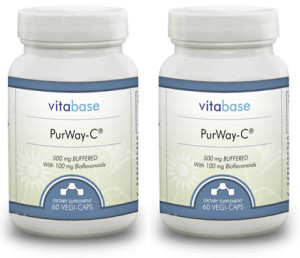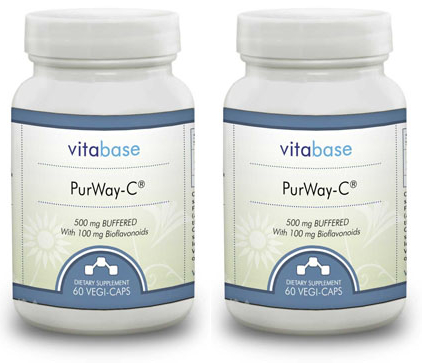 PureWay-C® is the fastest absorbable form of vitamin C, providing better results in improving the protection of the immune system. Additionally, it contains calcium to reduce the effects of using large amounts of acid and make the formula nonacidic.
Vitabase Purway-C – contains lipid metabolites – fat-soluble compounds that increase the absorption of vitamin C in the body. This enables the more rapid absorption of vitamin C in the body and Allowi to increase the level of ascorbic acid in the plasma which also results in higher retention of vitamin C. Since Purway-C is rapidly absorbed and remains in the body longer, it provides more beneficial effect, than other forms of vitamin C such as, e.g. calcium ascorbate. As a result, by using Pureway-C® formula we provide greater antioxidant protection [2] and strengthening of the immune system.
The product label
Serving Size: 1 Vegetarian Capsule(s)
Components
1 tablet
% DR
Vitamin C (as Pure Way-C®)
500 mg
833%
Calcium (calcium carbonate)
90 mg
9%
Citrus Bioflavonoid Complex
100 mg
*
Note: PureWay-C® is a registered trademark of Innovation Laboratories, Inc. The product manufactured in the USA. PureWay-C is a new and unique form of vitamin C (ascorbic acid from lipid metabolites) that enhances absorption, bioavailability and retention of vitamin C in blood plasma, cells and tissues of the body.
Other Ingredients: cellulose, water (capsule), magnesium stearate and silica.
Contains No Added: sugar, salt, dairy, yeast, wheat, gluten, soy, corn, preservatives, artificial colors or flavors.
Important: Keep out of reach of children.
% DR – percent of the daily requirement[1].
* – Daily Value Not Established.
Quality and potency guaranteed!
Vitamin C – 500mg (0.5g) – 60 vegetarian capsules. As a dietary suplement adults should take 1 capsule with a meal; 1-2 times daily or as or as directed by a health care professional. Store in a cool, dry place, away from direct light.
Buy now Pureway-C – Vitamin C 500mg for only
$11.95 / pack (60 Vegicaps)
or 3 packs for $35.85
and you will get the fourth one free!
---
References
Vitamin C Fact Sheet for Health Professionals – https://ods.od.nih.gov/factsheets/VitaminC-HealthProfessional/.
Antioxidants and Cancer Prevention – http://www.cancer.gov/about-cancer/causes-prevention/risk/diet/antioxidants-fact-sheet.
---
---