Please, select Your language version: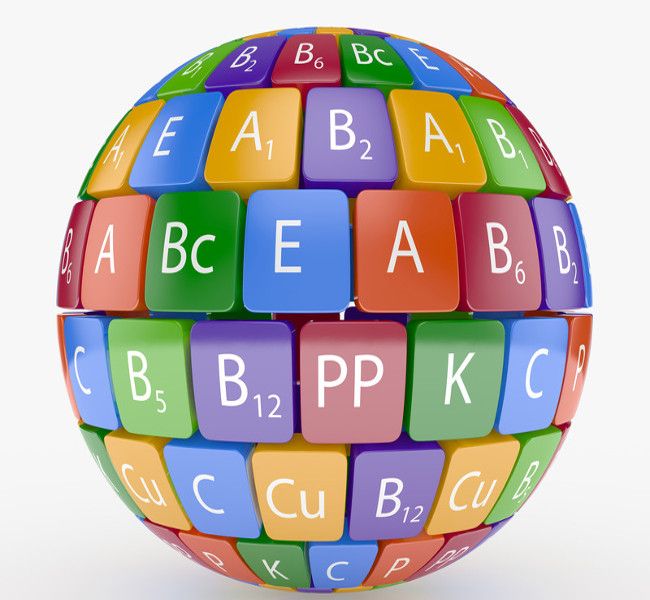 Vitamins – a group of organic compounds necessary for proper functioning of a living organism. For a man vitamins are exogenous – which means that the body does not synthesize them on its own. They must therefore be provided with food (usually in the form of provitamins).

In terms of the solubility vitamins may be divided into:
Fat-soluble vitamins
Vitamins, wherein the solvent is fat include:
VITAMIN
Substance
Provitamin
vitamin A
retinol (C20H29OH)

retinoic acid (C20H28O2)

β-carotene (C40H56)
vitamin D
calciferol
vitamin D1
Mixture of molecular compounds of ergocalciferol with lumisterol, 1:1
vitamin D2
ergocalciferol (C28H44O)
ergosterol (C28H44O)
vitamin D3
cholecalciferol (C27H44O)
active form of vitamin D3 – Calcitriol (C27H44O3)
cholesterol derivative:
7-dehydrocholesterol (C27H44O)
vitamin D4
22-dihydroergocalciferol (C28H46O)
vitamin D5
sitocalciferol C29H48O
7-dehydrositosterol (C29H48O)
vitamin E
α-tocopherol (C29H50O2)
Vitamin K
fitochinon
Vitamin K1
phytomenadione, fitonation, phylloquinone and other
Vitamin K2
menaquinone-6, farnochinon
vitamin K3,
vitamin K4,
vitamin K5
menadione (C11H8O2) – a synthetic pro-vitamin K. It is used as a hemostatic drug. Three synthetic types of vitamin K are known: vitamins K3, K4, and K5. Although the natural K1 and all K2 homologues and synthetic K4 and K5 have proven nontoxic, the synthetic form K3 (menadione) has shown toxicity.[13]
Water soluble vitamins
Vitamins, of which solvent is water include[1]:
VITAMIN
Substance
Comments
B vitamins
Vitamin B1
thiamine, aneurine
(C12H17N4OS)
Biologically active form of vitamin B1 is: thiamine pyrophosphate (C12H19N4O7P2S). Thiamine plays a central role in the generation of energy from carbohydrates. It is involved in RNA and DNA production, as well as nerve function. Its active form is a coenzyme called thiamine pyrophosphate (TPP), which takes part in the conversion of pyruvate to acetyl coenzyme A (CoA) in metabolism.
Vitamin B2
riboflavin (C17H20N4O6)
 Riboflavin is involved in:

the energy production for the electron transport chain,
the citric acid cycle,
as well as the catabolism of fatty acids (beta oxidation).[6]

Vitamin B3,
Vitamin PP
This name shall be referred to two compounds:

niacin – nicotinic acid (C6H5NO2, C6NH5O2)
and nicotinamide. There are two co-enzyme forms of niacin: nicotinamide adenine dinucleotide (NAD) and nicotinamide adenine dinucleotide phosphate (NADP). Both play an important role in energy transfer reactions in the metabolism of glucose, fat and alcohol[7]. NAD carries hydrogens and their electrons during metabolic reactions, including the pathway from the citric acid cycle to the electron transport chain. NADP is a coenzyme in lipid and nucleic acid synthesis.[8]

Vitamin B5
Pantothenic acid (C9H17NO5)
Pantothenic acid is involved in the oxidation of fatty acids and carbohydrates. Coenzyme A, which can be synthesised from pantothenic acid, is involved in:
Vitamin B6
This name is referred to 6 compounds:

pyridoxine (C8H11NO3), pyridoxal, pyridoxamine
and their phosphates:
phosphate, pyridoxine, pyridoxal phosphate (C8H10NO6P), pyridoxamine phosphate. The active form pyridoxal 5′-phosphate (PLP) (depicted) serves as a cofactor in many enzyme reactions mainly in amino acid metabolism including biosynthesis of neurotransmitters.

Vitamin B7,
Vitamin H
biotin (C10H16N2O3S)
Biotin plays a key role in the metabolism of lipids, proteins and carbohydrates. It is a critical co-enzyme of four carboxylases: acetyl CoA carboxylase, which is involved in the synthesis of fatty acids from acetate; pyruvate CoA carboxylase, involved in gluconeogenesis; β-methylcrotonyl CoA carboxylase, involved in the metabolism of leucine; and propionyl CoA carboxylase, which is involved in the metabolism of energy, amino acids and cholesterol.[9]
Vitamin B11,
vitamin B9,
vitamin M,
BC vitamin
folic acid, folacin
(C19H19N7O6)
Folic acid acts as a co-enzyme in the form of tetrahydrofolate (THF), which is involved in the transfer of single-carbon units in the metabolism of nucleic acids and amino acids. THF is involved in pyrimidine nucleotide synthesis, so is needed for normal cell division, especially during pregnancy and infancy, which are times of rapid growth. Folate also aids in erythropoiesis, the production of red blood cells.[10]
Vitamin B12
cobalamin, cyanocobalamin
(C63H88CoN14O14P)
Vitamin B12 is involved in the cellular metabolism of carbohydrates, proteins and lipids. It is essential in the production of blood cells in bone marrow, and for nerve sheaths and proteins[11]. Vitamin B12 functions as a co-enzyme in intermediary metabolism for the methionine synthase reaction with methylcobalamin, and the methylmalonyl CoA mutase reaction with adenosylcobalamin.
Other substances sometimes referred to as B-group vitamins
Vitamin B8
inositol (C6H12O6)
Is no longer classified as a vitamin because it is synthesized by the body.
Vitamin B4
Once described as choline (C5H14NO+) and adenine (C5H5N5).
Vitamin B10,
Vitamin Bx
False name for p-aminobenzoic acid (PABA – C7H7NO2)[2].
Vitamin B13
Not commonly acceptable definition of orotic acid.
Vitamin B17
Dr. Theodore Ernst Krebs, Jr. defined it as a mixture of amygdalin (C20H27NO11) and its modified form[3].
Other water-soluble vitamins
Vitamin C
ascorbic acid
(C6H8O6)
Ascorbic acid performs numerous physiological functions in the human body. These functions include the synthesis of collagen, carnitine, and neurotransmitters; the synthesis and catabolism of tyrosine; and the metabolism of microsome[12]. During biosynthesis ascorbate acts as a reducing agent, donating electrons and preventing oxidation to keep iron and copper atoms in their reduced states.
Avitaminosis
Avitaminosis – the total absence or significant defficiency of vitamins in the body. Selected individual symptoms ofparticular deficiencies:
Vitamin A deficiency leads to night blindness , softening of the cornea, dry eye syndrome (xerophtalmia).
B1 vitamin deficiency leads to beriberi disease.
Deficiency of vitamin PP leads to pellagra.
Vitamin B12 deficiency leads to megaloblastic anemia.
Deficiency of vitamin C leads to scurvy.
Deficiency of vitamin D results in rickets.
Vitamin K deficiency leads to poor blond coagulation.
Hypervitaminosis
Hypervitaminosis – a group of symptoms caused by an excess of vitamins in the body, it relates to a primarily fat-soluble vitamins A, D, E and K. Selected symptoms of particular kinds of excess:
Hypervitaminosis of Vitamin A: manifests itself with heaviness, muscle weakness, bone decalcification, loss of appetite, adverse dermatological changes (skin ulcer, alopecia), hemorrhage, cardiac, renal and central nervous system disorders.
Hypervitaminosis of vitamin D is not possible to be caused with the normal diet or intense exposure to ultraviolet radiation. Excessive doses of UV radiation breaks down vitamin D to suprasterole preventing its overproduction.
Hypervitaminosis of vitamin E: too high doses of vitamin E can cause gastrointestinal dysfunction, fatigue and weakness. Fortunately overdose of this vitamin is very rare because normally 60% of the daily dose is excreted in feces.
Hypervitaminosis of vitamin B1 reveals itself by tremor and palpitations, and vitamins B2 – by itching, numbness of limbs, and a feeling of burning and prickling.
Hypervitaminosis of vitamin C has not yet been scientifically confirmed. The use of the so-called mega-doses of vitamin C may, however, lead to the production of kidney stones.
---
References & External links
Witaminy B – https://en.wikipedia.org/wiki/B_vitamins.
MedlinePlus: Para-aminobenzoic acid. U.S. National Library of Medicine, National Institutes of Health.
Unproven methods of cancer management. Laetrile. "CA: A Cancer Journal for Clinicians". 41 (3), s. 187–192, 1991. DOI: 10.3322/canjclin.41.3.187. PMID: 1902140.
Pantothenic Acid – http://www.chm.bris.ac.uk/webprojects2002/schnepp/pantothenic.html.
Gropper, S; Smith, J (2009). Advanced nutrition and human metabolism. Belmont, CA: Cengage Learning.
"Riboflavin". Alternative Medicine Review 13 (4): 334–340. 2008. – http://www.altmedrev.com/publications/13/4/334.pdf.
Whitney, N; Rolfes, S Crowe, T Cameron-Smith, D Walsh, A (2011). Understanding Nutrition. Melbourne: Cengage Learning.
National Academy of Sciences. Institute of Medicine. Food and Nutrition Board, ed. (1998). "Chapter 6 – Niacin". Dietary Reference Intakes for Tjiamine, Riboflavin, Niacin, Vitamin B6, Folate, Vitamin B12, Pantothenic Acid, Biotin and Choline. Washington, D.C.: National Academy Press.
University of Bristol (2012). "Biotin". Retrieved 17 September 2012. – http://www.chm.bris.ac.uk/webprojects2002/schnepp/biotin.html.
National Academy of Sciences. Institute of Medicine. Food and Nutrition Board, ed. (1998). "Chapter 8 – Folate". Dietary Reference Intakes for Thiamine, Riboflavin, Niacin, Vitamin B6, Folate, Vitamin B12, Pantothenic Acid, Biotin and Choline. Washington, D.C.: National Academy Press.
University of Bristol (2002). "Vitamin B12". Retrieved 16 September 2012. – http://www.chm.bris.ac.uk/webprojects2002/schnepp/vitaminb12.html.
Gropper SS, Smith JL, Grodd JL (2005). Advanced nutrition and human metabolism. Belmont, CA: Thomson Wadsworth. pp. 260–275. ISBN 0-534-55986-7.
Higdon (February 2008). "Vitamin K". Linus Pauling Institute, Oregon State University. Retrieved 12 April 2008. – http://lpi.oregonstate.edu/mic/vitamins/vitamin-K.
---
---
Translations
The article "Vitamins" in other languages
Witaminy po Polsku:
Witaminy