Please, select Your language version: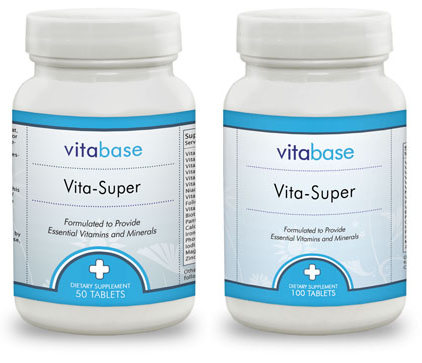 Vita-Super is a combination of vitamins and minerals suitable for everyone who wants to keep fit and vital. The product contains antioxidants [2] (antioxidants), which fight free radicals that can cause considerable damage to the system.
Multivitamin – Vita-Super Vitabase includes a wide range of vitamins, minerals, antioxidants and other natural ingredients in one formula. The combination of micronutrients allows to work together, improving the absorption and assimilation of each one. Vitamins and minerals often act synergistically, which means that one is a catalyst necessary for the proper absorption of the other. Proper balance is essential so that all of these micronutrients could work effectively for the human body.

Multivitamin supplements Vita-Super – Ingredients
The product label
Serving Size: 1 tablet
Components
1 tablet
% DR
Vitamin A (as retinyl palmitate)
10000 iu
200%
Vitamin C (ascorbic acid)
500 mg
833%
Vitamin D3 (cholecalciferol)
400 iu
100%
Vitamin E (D-alpha-tocopherol)
25 iu
83%
Vitamin B1 (Thiamine)
25 mg
1667%
Vitamin B2 (Riboflavin)
25 mg
1471%
Vitamin B3 – Niacin (niacinamide)
100 mg
500%
Vitamin B6 (pyridoxine)
25 mg
1250%
Vitamin B7, vitamin H – Biotin
25 mcg
8%
Vitamin B8 – Inositol
25 mg
*
Vitamin B9, Vitamin B11, Vitamin M – Folic acid (retinyl palmitate)
400 mcg
100%
Vitamin B12 (cobalamin, cobalt)
100 mcg
1.667%
Pantothenic acid (vitamin B5 component)
50 mg
500%
Calcium (with bone meal)
31 mg
3%
Iron (as gluconate)
5.8 mg
32%
Iodine (from kelp Pacific)
150 mcg
100%
Magnesium (magnesium gluconate)
0.7 mg
<1%
Zinc (as gluconate)
0.7 mg
5%
Copper (copper gluconate)
0.35 mg
18%
Chromium (amino acid chelate chromium AA)
10 mcg
8%
Potassium (potassium gluconate)
1,7 mg
<1%
Manganese (manganese gluconate)
0,7 mg
35%
Phosphorus (with bone meal)
15 mg
2%
Selenium (as selenite)
10 mcg
14%
Choline (as bitartrate)
25 mg
*
Routine
25 mg
*
Para amino benzoic acid
25 mg
*
Citrus bioflavonoids
25 mg
*
Betaine hydrochloride
25 mg
*
Hesperidin Complex
5 mg
*
L-lysine
8 mg
*
Desiccated Liver
50 mg
*
Glutamic acid
25 mg
*
Note: Accidental overdose of iron-containing products is a main cause of fatal poisoning in children under 6 years of age. In the case of overdose, immediately contact your doctor.
Other ingredients: rice bran, alfalfa, parsley, watercress. It may contain one or more of the following ingredients: magnesium stearate, cellulose, modified cellulose, vegetable stearin, dicalcium phosphate and silica. It contains soy.
The product contains no: sugar, salt, yeast, wheat, corn, preservatives, artificial colors and flavors.
Important: Keep out of reach of children.
% DR – percent of the daily requirement[1].
* – Daily demand is not fixed.
Product quality guaranteed!
Vita-Super – 50 tablets. As a dietary supplement, adults should take 1 tablet daily with a meal oraccording to doctor's prescription. Store in a cool, dry place, away from direct light.
Buy now Vita-Super for only
$11.95 / pack (50pcs.)
or 3 packs for $35.85
and you will get the fourth one free!
There are also packs of 100 pieces even cheaper!
---
References
Dietary Reference Intakes: Guiding Principles for Nutrition Labeling and Fortification (2003) – http://www.nal.usda.gov/fnic/DRI//DRI_Guiding_Principles_Labeling/guiding_principles_labeling_full_report.pdf, Vitamin C Fact Sheet for Health Professionals – https://ods.od.nih.gov/factsheets/VitaminC-HealthProfessional/.
Antioxidants and Cancer Prevention – http://www.cancer.gov/about-cancer/causes-prevention/risk/diet/antioxidants-fact-sheet.
---
---