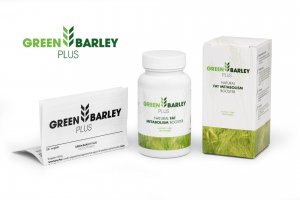 Green Barley Plus ™ is the highest quality green barley extract (green magma) enriched with garcinia cambogia extract. The combination of these two very active slimming ingredientsenabled to create an extremely powerful fat burner. The product also works as an appetite-suppressant (ensures the feeling of fullness), cleanses toxins – has a positive effect on the appearance of skin, hair and nails.
Advantages of Green Barley Plus ™
Due to the presence of green barley (green magma, barley grass) and garcinia cambogia (60% hydroxycitric acid)) , the preparation Green Barley Plus ™:
supports fat metabolism owing to which the fat tissue is reduced,
ensures the feeling of satiety (Appetite Suppressant), so you do not snack between meals,
cellulite,
restores acid-base balance,
strengthens hair, nails and improves the appearance of the skin,
is completely natural and safe,
has no side effects.
Green Barley Plus ™ – Composition
Extract of barley leaves (green magma, barley grass)
Extract of barley leaves (green magma, barley grass)
Young green barley is a very popular ingredient in dietary supplements, used as a natural weight loss facilitator, which further strengthens the vitality of the whole body.
Green magma contains many valuable enzymes that significantly support digestion and eliminate unnecessary toxins from the body.
Due to this, Green Barley Plus dietary supplement not only supports fat burning, but also ensures the proper functioning of the entire digestive system, having a positive effect on the skin, hair and nails.
Garcinia Cambogia (gummi-gutta)
GThe main slimming ingredient in garcinia cambogia is hydroxycitric acid (HCA). Garcinia Cambogia supplementation proves results in reduction of the weight gain, inflammation and glucose intolerance. This compound has a significant effect on the body as a powerful fat burner, an appetite suppressant and metabolism enhancer. HCA controls the production of an enzyme called citrate lyase, which is responsible for the conversion of excess carbohydrates into fat. It converts carbohydrates into energy and reduces fat deposits in the body.
University of Houston researchers have proven that hydroxycitric acid has the ability to dissolve calcium oxalate crystals, which is a component of kidney stones in humans. This is an amazing discovery as it can lead to the development of new drugs for kidney stones in humans.
Availability / Where to buy
Green Barley Plus ™ dietary supplement for slimming – green barley + Garcinia Cambogia is available worldwide. The only safe place where you can buy the original product is the manufacturer / distributor's website, which warns against buying in other places – especially at online auctions. There you can often buy products of unknown origin, which can even be dangerous to health. To facilitate the purchase, the manufacturer has prepared separate websites (language versions) for countries such as: England, USA (United States of America), Ireland, Canada, Poland, Spain, Portugal, Deutschland, Austria, Switzerland, Italy, France, Greece, Cyprus, Belgium, Netherlands, Denmark, , Finland, Sweden, Czech Republic, Slovenia, Hungary, Rumania, Slovakia, Serbia, , Philipines, Hong Kong, Indonesia, South Korea, Malaysja, Norway, Singapore, Thailand, Taiwan, Turkey and Vietnam.

Reviews
The opinions we obtained about Green Barley Plus are very positive. If you used this product – please submit your opinion (your experience) about it – we will gladly publish it. We also encourage you to share your opinions on it in the comments below.
---
References & External links
Yamada T, Hida H, Yamada Y (2007). "Chemistry, physiological properties, and microbial production of hydroxycitric acid". Appl. Microbiol. Biotechnol. 75 (5): 977–82.
Jena et al 2002, Chemistry and Biochemistry of (−)-Hydroxycitric Acid from Garcinia, Journal of Agricultural and Food Chemistry 50(1):10-22.
Shara M, Ohia SE, Yasmin T, et al. (2003). "Dose- and time-dependent effects of a novel (−)-hydroxycitric acid extract on body weight, hepatic and testicular lipid peroxidation, DNA fragmentation and histopathological data over a period of 90 days". Mol. Cell. Biochem. 254 (1–2): 339–46.
Heymsfield SB, Allison DB, Vasselli JR, Pietrobelli A, Greenfield D, Nunez C (1998). "Garcinia cambogia (hydroxycitric acid) as a potential antiobesity agent: a randomized controlled trial". JAMA. 280 (18): 1596–600.
Igho O, Shao K, Rachel P, Barbara W, Edzard E (2011). "The Use of Garcinia Extract Hydroxycitric Acid as a Weight loss Supplement: A Systematic Review and Meta-Analysis of Randomised Clinical Trials". J Obes. 2011 (622): 849.
Saito M, Ueno M, Ogino S, Kubo K, Nagata J, Takeuchi M (2005). "High dose of Garcinia cambogia is effective in suppressing fat accumulation in developing male Zucker obese rats, but highly toxic to the testis". Food Chem. Toxicol. 43 (3): 411–9.
Madhusudan Soni Burdock Group (2005). "Garcinia cambogia toxicity is misleading". Food and Chemical Toxicology. 43 (11): 1683–1684.
Hayamizu, K; Tomi, H; Kaneko, I; Shen, M; Soni, MG; Yoshino, G (2008). "Effects of Garcinia cambogia extract on serum sex hormones in overweight subjects". Fitoterapia. 79 (4): 255–61.
Chung J, Granja I, Taylor M, Mpourmpakis G, Asplin J. "Molecular modifiers reveal a mechanism of pathological crystal growth inhibition". Nature.
ONAKPOYA, Igho; HUNG, Shao Kang; PERRY, Rachel; WIDER, Barbara; ERNST, Edzard. The use of Garcinia extract (hydroxycitric acid) as a weight loss supplement: a systematic review and meta-analysis of randomised clinical trials. Journal of obesity, 2010, 2011: 44.
Evaluation of the pharmacotherapeutic efficacy of Garcinia cambogia plus Amorphophallus konjac for the treatment of obesity, Carlos A. R. Vasques, Simone Rossetto, Graziele Halmenschlager, Rafael Linden, Eliane Heckler, Maria S. Poblador Fernandez, José L. Lancho Alonso, Phytotherapy Research Volume 22, Issue 9, pages 1135–1140, September 2008
Garcinia cambogia (Hydroxycitric Acid) as a Potential Antiobesity Agent: A Randomized Controlled Trial, Steven B. Heymsfield, MD; David B. Allison, PhD; Joseph R. Vasselli, PhD; Angelo Pietrobelli, MD; Debra Greenfield, MS, RD; Christopher Nunez, MEd, JAMA – The Journal of the American Medical Association (1998;280(18):1596-1600)
Niwa, Yukie, and Yoshiki Miyachi. "Antioxidant action of natural health products and Chinese herbs." Inflammation 10.1 (1986): 79-91.
Harrison, Lewis. Master Your Metabolism: The All-natural (all-herbal) Way to Lose Weight. Sourcebooks, Inc., 2003.
Harrison, Pam. "How to teach yourself more about probiotics".
Page, Linda. Healthy Healing's Detoxification: Programs to Cleanse, Purify & Renew. Healthy Healing, Inc., 2008.
Simonsohn, Barbara. Barley Grass Juice. Lotus Press, 2001.
Meyerowitz, Steve. Wheatgrass Nature's Finest Medicine: The Complete Guide to Using Grasses to Revitalize Your Health. Sproutman Publications, 2006.
Kwas hydroksycytrynowy (Portal ABC Zdrowie) – https://portal.abczdrowie.pl/kwas-hydroksycytrynowy.
Hydroxycitric acid (Wikipedia) – https://en.wikipedia.org/wiki/Hydroxycitric_acid.
Legend
---
---