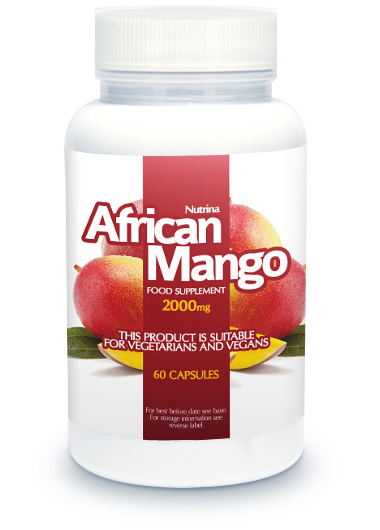 African mango preparation is an effective suplement for people, who have already tested various diets and failed to attain satisfying results. African mango extract facilitates body fat burning and helps to control the appropriate body weight.

African mango is rich in vitamins and minerals, seeds of this fruit also contain a large amount of fiber, which has a positive effect on reducing appetite giving the feeling of satiety. The African Mango 600 also includes a powerful antioxidant, that facilitates slimming and fat burning. Through harmonizing leptin responsible for the proper managing of energy resources, African Mango (Irvingia gabonensis)[1] proves extremely effective in attaining the dream figure.
Slimming pills African Mango:
unbeaten accelerator of fat burning – fat burner,
100% effective composition confirmed by research and the results of the satisfied customers,
a specialist in fat reduction – also acting very effectively in the abdomen area,
based on natural ingredients and completely safe dietary suplement facilitating slimming process.
African mango effectively reduces appetite
and provides the feeling of satiety for longer!
Tablets for weight lost (fat burner) with an extract from African mango have a positive impact on lowering the level of cholesterol and prevent inflammations.

Important! The substances contained in African mango fruit have a positive impact on ensuring an adequate level of protein C[3] – reactive protein and adiponectines[4], regulate the level of glucose in the blood and help to get rid of toxins. This has a very positive effect on health and the condition of the whole organism. African mango seeds contain valuable minerals such as Sodium, Potassium, Calcium, Magnesium, Zinc, Iron, Manganese, Copper, Lead, Phosphorus[5].
Our preparation has been developed on the basis of natural ingredients, contains no unnecessary fillers or harmful substances – became a hit on the market of dietary supplements!
Clinical trials on African mango
The study was conducted at the University of Yaounde[2] in 2005. The research subject matter was the influence of Irviginia gabonensis[1] (antioxidant contained in African mango) on weight loss. The control group received 1.05 grams of the African mango extract, three times daily. Other participants received placebo. After 4 weeks, those taking African Mango reduced their body weight by 5,26% while the placebo users managed only by 1.26%.
African Mango is a proven and highly effective method for losing weight.
It will reduce your body fat and help to keep the dream figure!
The composition of the slimming tablets African Mango
Packaging of 60 capsules.
Irvingia gabonensis[1] (African Mango) 600 mg
Powdered Extract 10: 1 6000 mg
Slimming pills African Mango are manufactured in Great Britain in accordance with the standards of GMP[18].
Usage
Take 1-2 capsules daily with meals. Do not exceed the recommended daily dose.

Availability
The African Mango 600 mg is available in countries such as: England, Ireland, Poland, Spain, Portugal, Deutschland, Austria, Italy, France, Greece, Cyprus, Switzerland, Netherlands, Belgium, Denmark, Finland, Croatia, Rumania, Czech Republic, Latvia and Sweden and many others around the world.
Legend
---
References & External links
Irvingia Gabonensis – African Mango.
Uniwersytet Jaunde – https://pl.wikipedia.org/wiki/Uniwersytet_Jaunde, https://plus.google.com/108667078342948058217/about
Protein C, also known as autoprothrombin IIA and blood coagulation factor XIV, is a zymogen, the activated form of which plays an important role in regulating anticoagulation, inflammation, cell death, and maintaining the permeability of blood vessel walls in humans and other animals. Activated protein C (APC) performs these operations primarily by proteolytically inactivating proteins Factor Va and Factor VIIIa. APC is classified as a serine protease as it contains a residue of serine in its active site. In humans, protein C is encoded by the PROC gene, which is found on chromosome 2. – https://en.wikipedia.org/wiki/Protein_C.
Adiponectin (also referred to as GBP-28, apM1, AdipoQ and Acrp30) is a protein which in humans is encoded by the ADIPOQ gene. It is involved in regulating glucose levels as well as fatty acid breakdown. – https://en.wikipedia.org/wiki/Adiponectin.
Ogungbenle Henry Niyi, Chemical and Amino Acid Composition of Raw and Defatted African Mango (Irvingia gabonensis) Kernel, British Biotechnology Journal, ISSN: 2231-2927,Vol.: 4, Issue.: 3 (March), DOI : 10.9734/BBJ/2014/7609.
Ultra high-performance liquid chromatography with high-resolution mass spectrometry analysis of African mango (Irvingia gabonensis) seeds, extract, and related dietary supplements. Sun J, Chen P. Food Composition and Methods Development Laboratory, Beltsville Human Nutrition Research Center, Agricultural Research Service, US Department of Agriculture, Beltsville, Maryland 20705, United States.
Ranking of slimming tablets containing African mango. – African Mango – Weight Loss Pills.
Plant names: Porcher Michel H. et al. 1995 – 2020, Sorting Irvingia Names. Multilingual Multiscript Plant Name Database (M.M.P.N.D) – A Work in Progress. School of Agriculture and Food Systems. Faculty of Land & Food Resources. The University of Melbourne. Australia. http://www.plantnames.unimelb.edu.au/Sorting/Irvingia.html.
Inhibition of Irvingia gabonensis seed extract (OB131) on adipogenesis as mediated via down regulation of the PPARgamma and leptin genes and up-regulation of the adiponectin gene. Oben JE, Ngondi JL, Blum K. Department of Biochemistry, Faculty of Science, Laboratory of Nutrition and Nutritional Biochemistry, University of Yaoundé I, Yaoundé, Cameroon.
The use of a Cissus quadrangularis/Irvingia gabonensis combination in the management of weight loss: a doubleblind placebo-controlled study Julius E Oben,1 Judith L Ngondi,1 Claudia N Momo,1 Gabriel A Agbor,1,2 and Caroline S Makamto Sobgui1,2 [8] White L, Albernethy K. Guide de la végétation de la réserve de la Lopé, Gabon. ECOFAC Gabon. 1996.
Okafor J, Okolo HC. Potentials of some indigenous fruit trees of Nigeria. Paper presented at the 5th Annual Conference of the Forestry Association of Nigeria Jos. 1974. pp. 60–71.
Ngondi JL, Etoundi BC, Nyangono CB, Mbofung CMF, Oben JE. IGOB131, a novel seed extract of the West African plant Irvingia gabonensis, significantly reduces body weight and improves metabolic parameters in overweight humans in a randomized double-blind placebo controlled investigation. Lipids in Health and Disease. 2009;8, article 7.
Vuksan V, Jenkins DJ, Spadafora P, et al. Konjac-mannan (glucomannan) improves glycemia and other associated risk factors for coronary heart disease in type 2 diabetes. A randomized controlled metabolic trial. Diabetes Care. 1999;22:913–9.
EGRAS, Amy M.; et al. An Evidence-Based Review of Fat Modifying Supplemental Weight Loss Products. Journal of obesity, 2010, 2011.
Natural Medicines Comprehensive Database. Stockton, Calif, USA: Therapeutic Research Faculty; Irvingia gabonensis.
Ngondi JL, Oben JE, Minka SR. The effect of Irvingia gabonensis seeds on body weight and blood lipids of obese subjects in Cameroon. Lipids in Health and Disease. 2005;4, article 12.
Ngondi JL, Etoundi BC, Nyangono CB, Mbofung CMF, Oben JE. IGOB131, a novel seed extract of the West African plant Irvingia gabonensis, significantly reduces body weight and improves metabolic parameters in overweight humans in a randomized double-blind placebo controlled investigation. Lipids in Health and Disease. 2009;8, article 7.
GMP – good manufacturing practice.
---
---
Translations
The article "

African Mango

– a recipe for efficient slimming" in other languages
AFRICAN MANGO – recepta na skuteczne odchudzanie po Polsku:
AFRICAN MANGO – recepta na skuteczne odchudzanie
African Mango ™ – ein Rezept für effektiven Gewichtsverlust Deutsch:
African Mango ™ – ein Rezept für effektiven Gewichtsverlust
African Mango ™ – receta para el adelgazamiento eficaz Español:
African Mango ™ – receta para el adelgazamiento eficaz