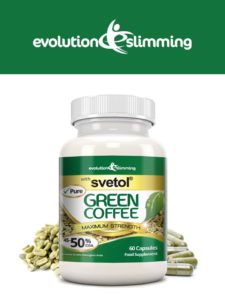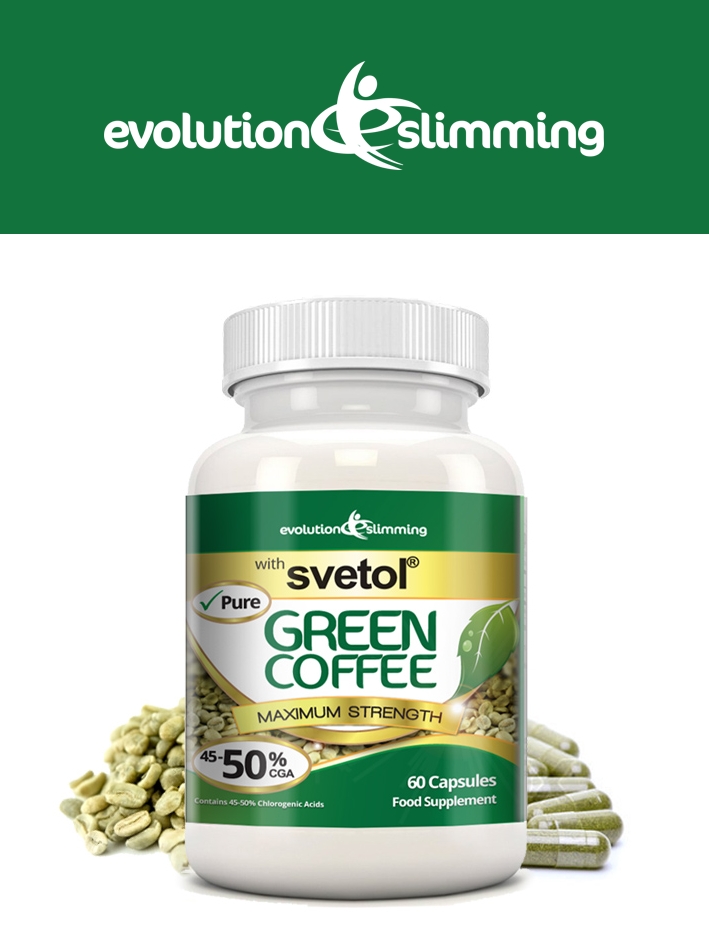 Svetol ® is a natural extract of caffeine free green coffee beans and has a considerable effect on the fat burning process. Svetol ® is composed for about 50% of chlorogenic acid.
Chlorogenic acids are polyphenols with a low antioxidant effect, which according to a number of studies have recently proven to be very efficient in weight loss. In a clinical trial, participants consuming Pure Svetol ® saw a reduction in body weight of up to 11 pounds (5 kilos).
Svetol Green Coffee Bean Extract for weight loss
Evolution Slimming Svetol® Green Coffee Bean Extract contains the recommended 50% CGA (chlorogenic acid) which can aid fat burning & weight loss.
It's our most powerful green coffee bean supplement and is clinically proven to help burn fat and reduce weight and is simply unmatched in terms of quality and effectiveness.
Pure Svetol ® Green Coffee Bean 50% CGA
Svetol:

Official Svetol® branded Green Coffee Bean Extract, recommended by Dr Oz.
50% Chlorogenic Acid for Fat Burning.
Less than 2% Caffeine and Vegetarian Friendly.
Incredible Maximum Strength Green Coffee.




Ingredients: Svetol Green Coffee Extract 200 mg (providing minimum of 90 mg Chlorogenic Acid), equivalent to 3200 mg daily dose of Pure Green Coffee. Inactive Ingredients: Capsule Shell (Vegetarian Friendly), Magnesium Stearate & Microcrystalline Cellulose.
Directions for Use: As a dietary supplement, take one capsule 30 minutes before breakfast and one capsule 30 minutes before lunch with a large glass of water.




This product is available worldwide
It is known to boost metabolism but will not cause jittery feelings associated with caffeine. Green Coffee is a potent, natural antioxidant that may help protect the body from free-radical stress and damage. Our green coffee contains less than 2% caffeine per capsule so it won't cause the jitters or light headedness.
---
References & External links
Farah, Adriana, et al. "Chlorogenic acids from green coffee extract are highly bioavailable in humans." The Journal of Nutrition 138.12 (2008): 2309-2315.
ONAKPOYA, Igho; TERRY, Rohini; ERNST, Edzard. The use of green coffee extract as a weight loss supplement: a systematic review and meta-analysis of randomised clinical trials. Gastroenterology research and practice, 2011
Blum J, Lemaire B & Lafay S. (2007) Effect of a green decaffeinated coffee extract on glycemia – A pilot prospective clinical study.
NUTRAfoods 6(3), 13-17.) Nardon K, Lemaire B & Lafay S. (2007) Green coffee extract Svetol® can manage weight: a review
MENG, Shengxi; CAO, J.; FENG, Q.; PENG, J.; HU, Y. Roles of chlorogenic acid on regulating glucose and lipids metabolism: a review. Evidence-Based Complementary and Alternative Medicine, 2013.
Daglia, Maria, et al. "In vitro antioxidant and ex vivo protective activities of green and roasted coffee." Journal of Agricultural and food chemistry 48.5 (2000): 1449-1454.
Vinson, Joe, Mysore V. Nagendran, and Bryan R. Burnham. "Randomized, double-blind, placebo-controlled, linear dose, crossover study to evaluate the efficacy and safety of a green coffee bean extract in overweight subjects." Diabetes, metabolic syndrome and obesity: targets and therapy 5 (2012): 21-27.
---
---